2016
——————
Artists: Azar Alsharif (NO/IR) / Diogo Evangelista (PT) / Anna Franceschini (IT) / Matyáš Chochola (CZ) /Henning Lundkvist  (SE) / Nuno da Luz (PT) / Ana Manso (PT) / Nikolai Nekh (RUS) André Romão (PT)/  Iza Tarasewicz (PL)

Curator: Markéta Stará Condeixa
Magic has been traditionally perceived in opposition to the beliefs of Western culture. It's understanding has been shaped around a conceptual field that was meant to define an antithesis of modernity. This was thought to recede and gradually disappear as rationalisation and secularisation spread through out society. Such an understanding of magic was naturally connected and strengthened by fields of study such as anthropology, which has plaid an important role in defining the modern man, whose rationality, secularity and whose scientific based values supposedly stood in direct opposition to magic's spiritual origins. In fact it was anthropology, which has helped to develop a tradition of embedding magic into arguments about difference, reinforcing thus the idea of Western superiority and playing an essential role in the colonial history of the West. Surprisingly or not, it became the same Western colonial history, which has also applied modes of representation, communication, persuasion and coercion, which although thought of as rational, technical and utterly different from the field of magic, in fact embodied some of the key attributes of magic, making thus the first step towards the so-called modernization of the term and the incorporation of magic into the modern and the later transformed – contemporary Self.
Once the somewhat reductive categories of witchcraft, ritual, religion, magic or science – if we like, are taken out of their complex competition in defining the real, the realisation of an effort to institutionalise cosmologies driven by an obvious power struggle, comes to the fore. Such a power struggle is based on a system of socially established beliefs. This understanding and institutionalisation of magic transforms a conceptual field into a practical tool and a possible means of domination, manipulation or possession. To understand this shift fully however, we have to understand the ways in which forms of magic's publicity and secrecy complement or supplement each other and the ways in which the persuasiveness of the symbols we live by, thrives on a combination of faith and concealment. An example can be seen in the core of the neo-liberal economy, which is based on the idea of commodity fetishism – one of the multiple fields, which has adopted fully the so-called strategies of modern magic. The commodity form and its magic is founded on the basis of commodity representing the social, while concealing the character of the labour, which produces its. Similarly to the labour economy the dialectics of publicity and secrecy are based here on the process of concealment, where the social relation of producers of objects and objects as such, are presented as separate and conceal the concrete character of the product itself. We are faced here with the immaterial, may it be represented by the absent body or the concealed nature of a supposedly empowered object.
Revisiting the VIEWS Award – Contemporary Art from Poland
Deutsche Bank KunstHalle, Berlin, Germany
Zachęta National Museum Warsaw Poland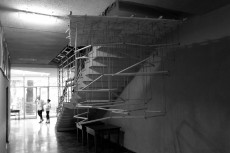 8×8. The Future that Never Happened
http://geoair.ge/project/8×8-future-never-happened
Tbilisi Chess Palace and Alpine Club opened in 1973 in Kirov (today's Vere) Park. It is one of the unique examples of late Soviet Modernist architecture. Creating the spaces of public use was one of the main principles of Modernist architecture. The social function of precisely and distinctly thought architecture excluded autonomous occupants. In case of this building, as well as the general situation show a contrary situation. Spaces that are adjusted to individual demand emerge everywhere.
The project "8×8. The Future that Never Happened" is not only about the Chess Palace and the Alpine Club, and its unique architecture. Also, it is not just about chess and its history in Georgia. It is an attempt to observe one particular edifice and its surrounding, and accordingly comprehend those system mechanisms that Georgia has been going through, and those political, economical, social and other impact they have been making during and after the Soviet Union. The same system mechanisms influence the existence of art in the same way. Thus the project also observes and analyses the environment, in which contemporary art has to exist today; especially art that reacts on the happenings and the processes around it, and is socially and politically active and engaged. However, art does not always precisely represent the reality. Art has an ability to (re)think and allegorically, symbolically interpret different events or themes. This is exactly one of the reasons why Tbilisi Chess Palace has become the theme of our research and project.
This building represents an example reflecting both, the architectural principles of Modernism and the socio-economic processes that have been taking place since the 90s. On one hand, the precisely examined purpose of the building, the rational use of material and openness is underestimated, though still make it worthy among the list of monuments of architecture from this period. Its later transformation based on the needs, desires or taste of temporary owners or tenants absolutely opposes the initial holistic idea and represents the chaos, which is very characteristic to the everyday of many countries in the last three decades. It is also an interesting fact that like architecture, chess and mountaineering are characterized by foresight and strategic thinking. However, evidentially this is not present in the building nowadays and in the attitude of its owners or temporary tenants. "Today and for me" is an exact character of the society that we live in nowadays.
The project is based on textual or visual documents and facts found in public or personal archives and also on the narratives of people who are connected to the building and/or the theme. The exhibition presents historical material, as well as the works created with the interpretation of the project author and the participating artists.
Curated by Nini Palavandishvili in collaboration with Lena Prents
David Bergé and Nadia Tsulukidze, Data Chigholashvili, Yip Kai Chun, Nutsa Esebua, Atu Gelovani, Lasha Kabanashvili, Lado Lomitashvili, Paran Pour, Iza Tarasewicz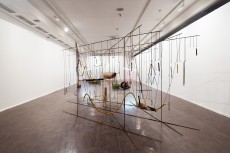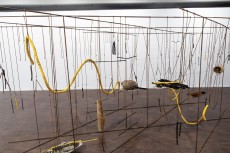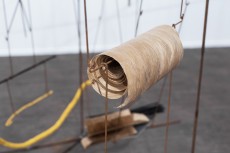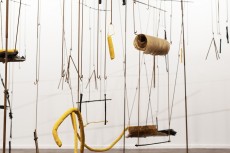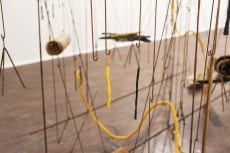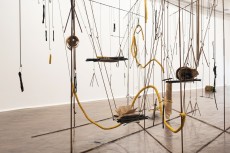 H Y P E R C O N N E C T E D
30TH JUNE — 14TH AUGUST
5th Moscow International Biennale for Young Art
MOSCOW MUSEUM OF MODERN ART AT ERMOLAYEVSKY PEREULOK
PDF 5th-moscow-international-biennale-for-young-art-moscow-museum-of-modern-art-at
Curator: João Laia
Artists in the exhibition: Adriano Amaral (1982, Brazil), Hicham Berrada (1986, Morocco), Lupo Borgonovo (1985, Italy), Cécile B. Evans (1983, Belgium – USA), Neringa Cerniauskaite (aka Pakui Hardware) (1984, Lithuania), June Crespo (1982, Spain), Diogo Evangelista (1984, Portugal), Guan Xiao (1983, China), Rodrigo Hernandez (1983, Mexico), Patrick Hough (1989, Ireland), Sasha Litvintseva (1989, Russia), Adrien Missika (1981, France), Saskia Noor van Imhoff (1982, The Netherlands), Yuri Pattison (1986, Ireland), Mariana Silva (1984, Portugal), Iza Tarasewicz (1981, Poland), Ana Vaz (1986, Brazil) & Tristan Bera (1984, France), Zoe Williams (1983, Great Britain).
From 30 June to 14 August 2016, H Y P E R C O N N E C T E D, the Strategic project of the 5th Moscow International Biennale for Young Art, will be shown in MMOMA. The curator is João Laia. The exhibition is on five floors of the building on Ermolayevsky Pereulok and brings together nineteen artists from fifteen different countries around the world. The project aims to explain to the viewer how art investigates and comments on the processes of everyday interactions between people and the world, how contemporary art practices interpret the current condition of disappearing transitions from object to subject, from nature and culture to conceptions of the world as a collective process. The artists, invited by the Portuguese curator reject apocalyptic and utopian views of modernity, and recognize the world as a plurality of conditions and positions, defying the limitations we have created ourselves. The MMOMA exhibition is a reminder that
we are all part of the same dynamic, where every individual becomes a plurality, each separate piece becomes part of the whole, and all of them are "hyperconnected".
João Laia: "In the current period of accelerated motion our minds and bodies move, change and adapt to the settings and networks we navigate daily. We shape-shift while opening windows, closing folders and browsing through reflecting surfaces; soft borders permanently redefining our identities. As a consequence, any hypothetical separation between nature and culture has been dissolved, our natural environment becoming a cultural environment. Whereas the speculations grouped under object-oriented philosophy highlight a recomposition of the world that questions the centrality of the human and opens alternative ontologies for consideration, the anthropocene reframes mankind as a geological force. Such strands of thinking have added to the on-going crisis of modernism's defining idea of humanity and nature as distinct entities. We are acknowledging our hybrid natural-cultural constitution as well as our state of permanent becoming as agents among other agents, a position expressing a co-extensivity with one's surroundings in which all organisms are inter-dependent, forming a renewed eco-philosophical thinking that acknowledges our humanity in the midst of an intricate environment. Everything is connected, not only humans through heightened communication and other scientific and cultural developments but also the whole cosmos as a multiple unity. From the dissolution of previously stable conceptions of the world emerge renewed possibilities to articulate hopes and fears. How is art probing and commenting upon these unfolding processes? This exhibition looks at how contemporary practices have been looking at our present situation as a moment of shift in which the correlation between object and subject or distinctions such as nature and culture are being surpassed and replaced for a conception of the world as an interlinked collectivity. Beyond apocalyptic scenarios or utopian visions, the artists included propose a reassessment of our current condition and look towards the future-present from an empowering stance that challenges boundaries. "Nothing is lost, nothing is created, everything is transformed". We are all together in this: one is becoming plural and intensely connected".
more: http://www.mmoma.ru/en/exhibitions/ermolaevsky/hyperconnected/
supported by Adam Mickiewicz Institute

——————

Curated by Sabel Gavaldon
Can Trinxet Factory, L'Hospitalet, Barcelona, Spain
Artists: MARK BAIN, NINA CANELL, LÚA CODERCH, ROC JIMÉNEZ DE CISNEROS, ROLF JULIUS, LUKAS MARXT, FRAN MEANA, MELANIE SMITH, IZA TARASEWICZ
PDF documentation :A THOUSAND HORSEPOWER BARCELONA 2016 PDF

You're just in time. I hope finding the way to the factory wasn't too hard. You probably oriented yourself using the GPS on your smartphone. Your tablet's touchscreen is an inter-dimensional portal connecting faraway spaces and times. The technology it consists of contains a dozen rare earths —chemical elements such as dysprosium, europium, terbium, yttrium, and lanthanum— that have travelled the planet to be here. The tablets used by the first scribes were made of clay collected on the shores of the Euphrates. It is disquieting to think that humanity's written history goes back just over 5,000 years whilst the half-life of radioactive plutonium is of over 24,000 years. The idea makes one giddy, don't you think?It is now 1981. A date like any other. But this year will see the emergence of a new field of research: nuclear semiotics. The US Department of Energy has called upon a heterogeneous group of thinkers and scientists —comprising physicists, engineers, anthropologists, psychologists, even a well-known science-fiction writer— to form the first Human Interference Task Force. Their duty is to discourage the inhabitants of the future to come close to the 85,000 cubic metres of radioactive waste stored in the desert of New Mexico, 600 metres underground. The challenge is to design a system of signage that might survive a catastrophic future, semantically speaking. A method to communicate with creatures we will never know anything about: "Do not dare to alter the peace of this temple."It is an ecopoetic challenge: How might a poem, a drawing, or a sculpture account for human impact on the environment, as its effects echo throughout the millennia? What sort of poetry would have the capacity to document phenomena that vertiginously disperse in space and time, such as global warming, the financial market, or polystyrene particles in the ocean? Questions such as these force us to acknowledge the relativity of the human scale and point to other dimensions: from cosmic events to infinitesimal changes, from nanometric materials to planetary nebulae, from geological time measured in eons to information flows that disappear in a matter of picoseconds.It is 1784. An insignificant date compared to the deep time studied in geology and paleoclimatology. But 1784 could be the year of the end of the world, as the chemist Paul Crutzen points out. James Watt designed the steam engine then, and an emerging industry began to deposit coal on a large scale upon the earth's crust. A point of no return in our planet's geohistory. A few years later, Caspar David Friedrich painted his Wanderer above the Sea of Fog, where a man's figure —point of reference in the universe— stands, imposing, above a lush and violent mountain landscape. Two centuries later, it seems that the only image capable of expressing the contingencies of the present is the artificial crater of a uranium mine during a solar eclipse, or the ruins of a tyre factory in the middle of the Amazon rainforest.An abandoned factory in L'Hospitalet is not a bad place to meet and talk about time's elasticity. Needless to say, this exhibition does not take on James Watt. It doesn't even look to 1784. Instead, it positions itself in an uncertain future. Or an unrecognisable present perhaps, which can only take the form of an archaeological site. Mechanical dinosaurs stripped of their skin pile up in such a landscape, where we find the remains of an unknown material culture, reminiscent of the prehistoric discoveries that the artist Robert Smithson described in an unusual tour of his suburban hometown, Passaic, in New Jersey. On second thoughts, a factory in L'Hospitalet is also not a bad place to speculate about the possibility of a non-linear history. A history where many different realities, scales, and strata of experience beyond the human can be acknowledged. A fiction where past, present and future collide. I hope the way to the factory wasn't too hard to find. You arrived just in time.
——————
Objects Do Things
exhibition, performance, cinema, puppet slam
curated by Joanna Zielińska
26 February 2016 – 31 July 2016.
Artists: Marvin Gaye Chetwynd, Geoffrey Farmer, Pierre Huyghe, Christopher Kline, Tomasz Kowalski, Antje Majewski, Paul McCarthy, Shelly Nadashi, Paulina Ołowska, Tony Oursler, Mary Reid Kelley and Patrick Kelley, Pedro Reyes, Lindsay Seers, and many others.
more: http://www.csw.art.pl/index.php?action=aktualnosci&s2=1&id=1345&lang=eng
PDF documentation: Objects Do Things CSW Zamek Ujazdowski Warsaw Poland 2016
Performance Fungal Follies is a parasitic pedagogical porcini puppet presentation first presented in Objectif Exhibitions, in Antwerp during Iza Tarasewicz's installation The Means, the Milieu (2014). The puppet show stages a schizophrenic conversation between a disgruntled group of mushrooms that have grown from the same mycelia. There are many types of fungus, and their respective behaviours offer cues and clues with which to imagine their varied "personalities." Five voices, five perspectives, yet each mouthed by a single five-headed mycological machine.
Extract of audio:
——————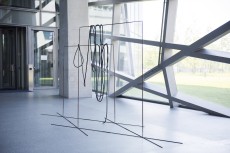 Contemporary Art from Poland
17 March – 19 June 2016
European Central Bank in Frankfurt with cooperation with Narodowy Bank Polski
Frankfurt, Germany
Artists: Paweł Althamer, Ewa Axelrad, Tomek Baran, Rafał Bujnowski, Słavomir Elsner, Aneta Grzeszykowska, Łukasz Jastrubczak, Ewa Juszkiewicz, Zofia Kulik, Maria Loboda, Goshka Macuga, Agata Madejska (tbc), Katharina Marszewski, Mikołaj Moskal, Paulina Ołowska, Katarzyna Przezwańska, Jadwiga Sawicka, Radek Szlaga, Mateusz Szczypiński, Iza Tarasewicz, Jakub Woynarowski, Wysocki & Jałowiński
PDF documentation: Contemporary Art from Poland 2016 European Central Bank in Frankfurt
——————
       

La Memoria Finalmente, Arte in Polonia 1989-2015
Curated by Marinella Paderni
Palazzo Santa Margherita, Modena, Italy
Artists: Paweł Althamer (1967), Ewa Axelrad (1984) Mirosław Balka (1958), Michał Budny (1976), Michał Grochowiak (1977), Nicolas Grospierre (1975), Anna Molska (1983), Paulina Ołowska (1976), Agnieszka Polska (1985), Wilhelm Sasnal (1972), Slavs and Tatars (2006), Monika Sosnowska (1972), Iza Tarasewicz (1981), Aleksandra Waliszewska (1976) and Jakub Woynarowski (1982).
——————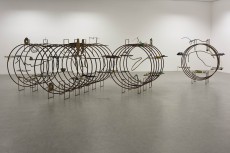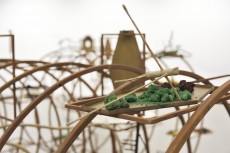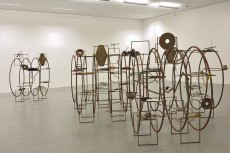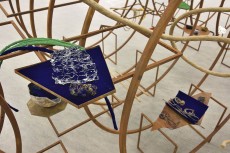 Unfolding Constellations
Curated by Eva Scharrer
5 February-3 April 2016
Group show at CCA Toruń, Poland
Katarzyna Kobro, Inge Mahn (with Irene Pätzug and Valentin Hertweck),Ulrike Mohr, Natalia Stachon, Iza Tarasewicz
more: http://en.csw.torun.pl/2016/01/15/unfolding-constellations/
PDF documentation: Unfolding Constellations Iza Tarasewicz CCA Torun February 2016 
Zbigniew Libera: It's Not My Fault That This Sculpture Rubbed Against Me
22 NOVEMBER 2015- 30 MARCH 2016
The Xawery Dunikowski Museum of Sculpture, the National Museum in Warsaw, Poland
Artists: Jerzy Bereś, Marian Bogusz, Albin Maria Bończa -Boniecki, Wanda Czełkowska, Xawery Dunikowski, Matthew Frere-Smith, Magdalena Gross, Władysław Hasior, Zuzanna Janin, Maria Jarema, Jerzy Jarnuszkiewicz, Anna Kamieńska- Łapińska, Alfons Karny, Kijewski/ Kocur (Marek Kijewski i Małgorzata Malinowska), Katarzyna Kobro, Edward Krasiński, Henryk Kuna, Leopold Lewicki, Zbigniew Libera, Ludwik Lille, Mika Mickun, Gaetano Motelli, Olga Niewska, Maria Papa Rostkowska, Theodore Roszak, Henryk Stażewski, Alina Szapocznikow, Alina Ślesińska, Iza Tarasewicz, Henryk Wiciński
PDF documentation: Zbigniew Libera: It's Not My Fault That This Sculpture Rubbed Against Me
——————

KURZ / DUST / غبار
Curated by Anna Ptak, Amanda Abi Khalil
4 September- 15 November 2015
group show at CCA Zamek Ujazdowski in Warsaw, Poland
Artists: Mona Aghababee (Iran), Nazgol Ansarinia (Iran), Caline Aoun (Lebanon), Mehraneh Atashi (Iran),Vartan Avakian (Lebanon), Naser Bakhshi (Iran), Charbel-joseph H. Boutros (Lebanon), Ali Cherri(Lebanon), Vikram Divecha (UAE), Negar Farajiani (Iran), Barbad Golshiri (Iran), Mikołaj Grospierre(Poland), Mireille Kassar (Lebanon), Ali Kazim (Pakistan), Komuna// Warszawa (Poland), Mehreen Murtaza (Pakistan), Jurgen Ots (Belgium), Monira Al Qadiri (Kuwait), Wojciech Pustoła (Poland), Neda Razavipour (Iran), Iza Tarasewicz (Poland), Lorde Selys (Belgium).
more
http://www.csw.art.pl/index.php?action=aktualnosci&s2=1&id=1266&lang=eng
PDF documentation: DUST
—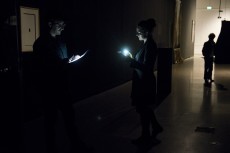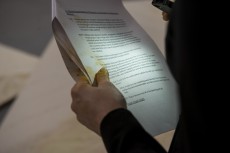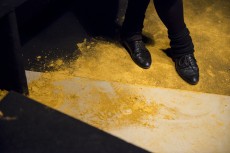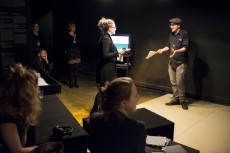 YELLOW COAL – lecture performance in the KURZ / DUST / GHOBAR exhibition
Post Brothers, Iza Tarasewicz
Sigizmund Krzhizhanovsky's 1939 short story "Yellow Coal" recounts the discovery of a new global energy source more plentiful and cheaper than anything else: human spite, hatred, aggression, and suffering, the immaterial residue of nasty interactions concentrated into limitless power. For Iza Tarasewicz and Post Brother's eponymous presentation, they will stage a performative tour through the exhibition Dust that recontextualizes the exhibited works through the possibilities of this strange technology. In the exhibition, the artists identify and highlight the visible and invisible evidence of events within the environment, the material and immaterial detritus, compositions, and decompositions generated by human and non-human actions, histories, and circumstances. The performance examines the latent energy that these material remnants may hold, harnessing the debris accumulated in the exhibition as surpluses of energy primed for exploitation and creative reuse. Extending Tarasewicz's dispersed interventions of yellow ochre by inspecting and reframing the other presented works, the project speculates on the possibility of accumulating, converting, and channeling fragments of physical and symbolic trauma into resources for power and strength.
PDF documentation: DUST YELLOW COAL PERFORMANCE
——————
The School of Kyiv Karlsruhe Class. Lecturer: Alexandra Exter
Curated by Hedwig Saxenhuber, Georg Schöllhammer and Anja Casser
2 October-6 December 2015
Badischer Kunstverein,Karlsruhe, Germany
The exhibition is part of The School of Kyiv – Kyiv Biennial 2015, in cooperation with the Visual Cultural Research Center, Kyiv
Artists: Zbyněk Baladrán, Ricardo Basbaum, Geta Brătescu, Robert Breer, Graciela Carnevale, Tamuna Chabashvili, Josef Dabernig, Anna Daučíková,
Maya Deren, Alexandra Exter, Stano Filko, Till Gathmann, Judith Hopf, Zhanna Kadyrova, Grigori Kozintsev, Taus Makhacheva, Johannes Porsch,
Sean Snyder, Hanna Sobachko, Iza Tarasewicz, Mikhail Tolmachev, Stas Voliazlovskyi, Anna Zvyagintseva
As part of The School of Kyiv – Kyiv Biennial 2015, Badischer Kunstverein presents a group show centred around Kyiv artist Alexandra Exter (1882–1949), while primarily showing contemporary works to illuminate the relevance of Exter for our time.
more: http://theschoolofkyiv.org/events/1735/karlsruhe-class-lecturer-alexandra-exter
           http://www.badischer-kunstverein.de/index.php?Direction=Programme&list=Exhibitions&Detail=597
 PDF documentation: The School of Kyiv Karlsruhe Class Lecturer Alexandra Exter
——————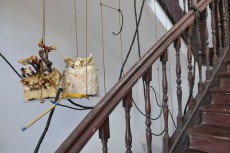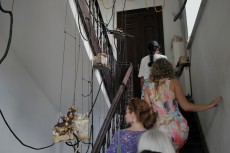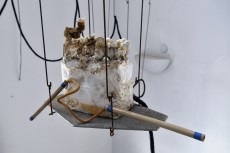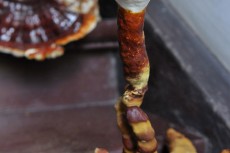 GARDENS
curator: Magda Godlewska- Siwerska
14 August- 10 October 2015
group show at Zacheta National Gallery
PDF documentation: Gardens The Means The Milieu Iza Tarasewicz Zacheta 2015
EN
A new arrangement featuring parts of installation The Means, The Milieu in old staircase in Zachęta. Architecture, history of place and transferred components (metal structures, numerous facilities and mushrooms reishi) create a special microclimate and energy. Reishi is the oldest mushroom known in history of Chinese medicine for centuries as a symbol of immortality, restoring vitality to the body, in the symbolism and iconography presented as a talisman to protect against death and danger.
PL
Instalcaja jest kolejną odsłoną projektu The Means, The Milieu pokazywanego pierwotnie w Objectif Exhibitions(w części piwnicznej galerii) w Antwerpii w listopadzie 2014 roku. Jest to otwarty zbiór mobilnych elementów będących w kolejnych odsłonach projektu w ciągłej przemianie. Mobilność architektury jest podstawowym założeniem The Means, The Milieu.
Klatka schodowa w Zachęcie, jest włączona w ten długołalowy process przemiany i również zostanie zaadoptowana do nowej odsłony instalacji. Architektura, historia miejsca oraz przeniesione komponenty instalacji(metalowe konstrukcje, liczne obiekty oraz grzyby reishi- w Polsce znane pod nazwą-lakownica lśniąca) wytworzą szczególny mikroklimat i energię. Reishi to najstarszy znany z historii grzyb o działaniu leczniczym- w medycynie chińskiej grzyb od setek lat uznawany za symbol nieśmiertelności, przywracający siły witalne dla organizmu, w symbolice i ikonografii ukazywany jako talisman chroniący przed śmiercią i niebezpieczenstwami.
—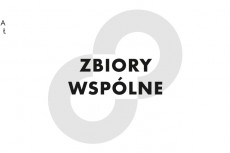 COMMON SETS
curator: Agnieszka Tarasiuk
Arsenal Gallery, Bialystok, Poland
29th March-3rd May 2015
http://galeria-arsenal.pl/wystawy/zbiory-wspolne-.html
artists: Mirosław Bałka, Basia Bańda, Anna Baumgart, Kuba Bąkowski, Wojciech Bąkowski, Olaf Brzeski, Jiří Černický, Hubert Czerepok, Oskar Dawicki, Maurycy Gomulicki, Zhanna Kadyrova , Ada Karczmarczyk, Marek Kijewski, Robert Kuśmirowski, Leszek Lewandowski, Piotr Łakomy, Magisters (Hubert Czerepok, Zbigniew Rogalski), Małgorzata Markiewicz, Viktor Marushchenko, Tomasz Mróz, Małgorzata Niedzielko, Agnieszka Polska, Wilhelm Sasnal, Mikołaj Smoczyński, Konrad Smoleński, Aleksandar Stankoski, Iza Tarasewicz, Slaven Tolj, Krzysztof Wodiczko, Julita Wójcik, Artur Żmijewski
excerpt of text to exhibition Post Brothers:
A set of sets
The concept of the set is said to be the foundation of mathematics, a "gathering together into a whole of definite, distinct objects of our perception or of our thought" (G. Cantor). Sets are propositions used to describe, formalize, and construct relations, fields of objects that have been grouped according to certain structures and formats. A new set can be constructed by determining which members two sets have "in common" (often illustrated through a shared space where two fields converge). This space of intersection is called a "common set", where collections or classes of objects come to occupy the same field and relate as part of a discrete body of information, an operative aggregate, a whole greater than the sum of its parts.
Curiously, the collections of many museums in Poland are often referred to as "common sets". This phrase not only describes the objects within individual magazines as sharing properties or organizing logics, but also refers to the concept that the museum's artifacts are common property, belonging to society at large, producing a collective narrative through the accumulation of things. The exhibition "Common Sets" explores the collective set of sets that is formed within the region of Podlasie, commingling contemporary art objects from the collections of the Arsenal Gallery in Białystok and the Podlaskie Association for the Promotion of Fine Arts with artifacts, documents, specimens, and objects drawn from the heterogeneous holdings of the Art, Archaeology, and Ethnographic Departments of the Podlaskie Museum and its branches: History Museum, The Alfons Karny Museum of Sculpture, Museum in Tykocin, Palace Museum in Choroszcz; as well as the natural history Wigry Museum of the Wigry National Park, and the Nature and Forest Museum of the Białowieża National Park. In combination, the variegated materials form an intriguing image of Podlasie, an archive of the commons that is both reflective of the shared histories, values and traditions within the region (an overlap of Polish, Belarusian, Lithuanian, German, Ukrainian, Russian, and Jewish cultures), and representative of certain logics guiding the collection of objects in the public domain as a whole. Comparing and contrasting the objects by placing them within shared zones of interaction, the curator Agnieszka Tarasiuk not only makes visible fundamental and shared ideologies at the core of public collections, but also scrutinizes the symbolic and structural procedures that orient how such civic collections are interpreted, framed, and become emblematic of certain bodies of knowledge or organizing principles.
Paramount to this exercise is an inquiry into the origins of museums as repositories of knowledge organized and maintained for the public good, a product of the Enlightenment's emphasis on order, reason, reductionism, analysis, individualism, and civic representation. Museums are a system of representation that frames and contextualizes objects within certain narratives, identifying historical significance, cultural value, or the object's status as "art," while simultaneously excluding other phenomena. Together different museums act as coordinated and complementary systems within the Enlightenment project of commensurability—transcribing all human experience and expression into a universal frame of reference, where everything is meticulously categorized within an archive of the commons. Colliding varied sets of knowledge and collecting principles, the curator prompts the viewer to discern the interrelations between different methods of understanding and representation, and to discover potential hidden relationships.
________
Procedures for the head. Polish Art Today is a continuation of the exhibition As You Can See presented at the Museum of Modern Art in Warsaw at the beginning of 2014.
curator: Sebastian Cichocki
coordinator: Zofia Płoska
Kunsthalle Bratislava
26th February- 28th June 2015
links:http://www.kunsthallebratislava.sk/en/event/procedures-head
http://artmuseum.pl/en/wystawy/dzialania-na-glowe-polska-sztuka-dzisiaj

Procedures for the head. Polish Art Today , The Means, the Milieu Kunsthalle Bratislava Iza Tarasewicz 2015  a new arrangement featuring parts of my installation "The Means, The Milieu" shown for the first time at the amazing place Objectif Exhibitions in Antwerp/Belgium.
This exhibition was the first such extensive presentation of contemporary Polish art in more than a decade. Featuring more than 80 artists representing different generations, media and art centers, focus was attributed to the most important work, approaches and themes employed by artists. Sebastian Cichocki and Łukasz Ronduda, the exhibition's curators, intentionally chose the conservative exhibition format of the art salon in an attempt to shift attention from curatorial experimentation to the works of art themselves. However, it was a rather unusual salon — critical, emancipatory, psychedelic, often brutal, perverse, self-confident and ambiguous.
Both exhibitions — in Warsaw, as well as in Bratislava — serve as a guide to the current direction of artistic events in Poland. These exhibitions were conceived at a specific moment — some time after Polish art emerged as a stable feature on the international scene, and, simultaneously, the period in which institutions became clearly more professional and radical. The current situation appears to fulfill the dreams of a previous generation of artists, for whom presence within the field of art was often related to the struggle for institutionalization and the position of the artist in society. However, the current situation does not resolve such problems, but, paradoxically, leads to new tensions between the institution and the artist, as well as the artist and the public. The result can be seen in the formation of the Civic Forum of Contemporary Art (Obywatelskie Forum Sztuki Współczesnej), which lobbies for legislation concerning the provision of social benefits to artists. This younger generation of artists enters the art world — which is already defined and professionalized — with a clearly articulated hierarchy and precise rules of operation.
The exhibition "Procedures for the head. Polish Art Today" is a showcase not only of the methods of modeling the world through art, but also of understanding and imagining an alternative reality by building a relationship between the past and an anticipated future.  The Warsaw exhibition pointed to what is new on the Polish art scene, while the artworks and events were grouped together to form a narrative. The exhibition in Bratislava is based on a more intuitive formal relationship between the chosen works, whilst also focusing on the dark, imaginative element in contemporary Polish art. The key themes present in the exhibition are the rediscovery of avant-garde strategies including the search for inspiration in other art forms (film or literature), the use of narrative elements, the frequent reanimation of the so-called 'traditional' art and abstraction, and the focus of the artists upon materiality.
The name of this exhibition was taken from a series of artistic performances in the 1970s authored by the radical neo-avant-garde duo KwieKulik (Zofia Kulik and Przemysław Kwiek). During these performances, the artists created works of art on various heads: their own, the heads of models, as well as the heads of other artists. The duo KwieKulik pointed to elements of the game, process, connections between the audience and the artists and material characteristic of the new art. Many works presented within this exhibition refer to the comprehensive art project authored by KwieKulik, which was an attempt at erasing the boundaries between private and public space, and between artistic creation and political involvement. These are "procedures" for the viewer's head, but also works that use the mind as a tool to "calibrate" what is both visible and invisible around us.
This exhibition has been organized by Kunsthalle Bratislava in co-operation with the Museum of Modern Art (Muzeum Sztuki Nowoczesnej) in Warsaw.
2014
——————
On Generation and Corruption
BWA Contemporary Art Gallery, Katowice, Poland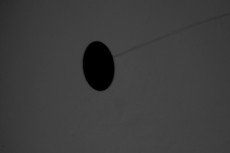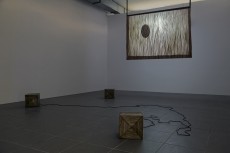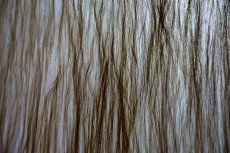 25 th April-15th June 2014
Link: BWA KATOWICE
video: continuation is important and continuation is a matrix and matrix is a set of possibilities

curatorial text Marta Lisok
On Generation and Corruption is an indistinct and wandering tale about the limitations of a language. The starting point is Soliloquia, a 1985 work by Andrzej Szewczyk and works contributed by other artists invited to collaborate on this exhibition seem wound on it as if it were a spool. Szewczyk's volume, covered in neatly spaced rows of kindred characters, keeps these quasi micro-organisms in a temporary unity of meaning.
Each work has a similar mode of function, based on a meticulously devised internal code mechanism. Each has a short decipher-by date and requires detailed decoding instructions, a lengthy commentary by the artist. These unique models of the universe that have been assembled for the exhibition follow the logic of oscillation. Nothing here happens in accordance with the rules of linear thinking — a default category for a  mind nurtured on the alphabet, which quite predictably stretches from point A to point B. There are opposing meanings which keep on reversing clumsily, forever coming back to square one, endlessly self-replicating, fixed at one singular moment, running away from themselves, self-reproducing, becoming stuck or simply perishing. Meanings are built on the spot, in an unpredictable manner and in absolute dependence on the attitude of the audience. The unrelenting task of coining names and terms has no end, taking on a sluggish rhythm of temporary connections and separations.
These codes, which have anyway been faulty since the onset, are awaiting some daredevil explorers. In the installation by Iza Tarasewicz, light from the projector is absorbed by a hemp fibre screen; the micro-organisms in Piotr Bosacki's video fall into decay; the book that Bartek Buczek leaves in a yeast-filled jar ferments throughout the exhibition while Dorota Buczkowska's butter-sculpted totem melts; Denisa Lehocká's installation remains suspended in forced balance; there is a gigantic image roaming the gallery walls, which was designed by the Rafani group; the work by Little Warsaw requires that the audience brings it to life with highly complex machinery. There is no guarantee whatsoever that this glamorous surface conceals a vast store of knowledge. Rather, any appealing meaning appears only for a  fleeting instant.
——————
As You Can See: Polish Art Today
Museum of Modern Art in Warsaw, Poland
Link: Art Museum in Warsaw
"As You Can See: Polish Art Today" is the first show of current Polish art spanning such range for more than a decade. It centres around important works, attitudes, and themes commented on by visual artists over recent years.
The curators – Sebastian Cichocki and Łukasz Ronduda – have purposely reached for the conservative format of an artistic salon, shifting the centre of gravity from exhibition experiments to artworks themselves, whilst allowing the salon itself to be particular: critical, emancipatory, psychedelic, occasionally brutal and perverse, dense and ambiguous.
The exhibition was designed as a guidebook facilitating the journey across the territory of current art phenomena. It was created with a broad audience interested in contemporary culture in mind. It focuses on a specific time and place, and is being held at a rather specific moment: several years after Polish art stabilised its position internationally, and simultaneously to the process of Polish artistic institutions becoming professionalised and rather radical. The current set of circumstances seems to be a dream come true for previous generations of artists, whose presence in the field of art often tied in with a struggle for the shape and form of the art institution, and for the artist's position in society. The situation itself, however, does not resolve all problems: paradoxically, it leads to the creation of new tensions between institutions and artists, and artists and audiences, respectively.
The exhibition focuses on how artists define their social role and obligations to a viewer, and how they negotiate their relations with institutions. As You Can See: Polish Art Today is a review of forms of seeing and perception, of desire, of being together and being alone, of understanding reality, and of relating to the past and future. The exhibition relates both to the artists' private space and developing relations with objects of everyday use or with architecture, and to the – ever-unconquered – territory of social change, to attempts at modifying the world with tools of art put to use.
The "As You Can See: Polish Art Today" exhibition traces the current moment in the Polish art scene by grouping artworks and art phenomena into a series of narrations. A distinctly pronounced motive is that of avant-garde strategies having been exhausted and replaced by a search for inspiration in areas which could have previously been considered "compromised": non-professional art, crafts, or academism. "Bourgeois" art, contemporary graphics, and extra-urban art (contemporary folk art, created contrary to recent opinions that contemporary art is a purely urban phenomenon) have all been gaining new allies.
Throughout the exhibition, the Emilia pavilion shall be gazing at the city with huge eyes wide open, an object of unique anthropomorphisation (Paulina Ołowska's glass paintings in a reference to Jerzy Kolecki's posters). The exhibition centres around what you can see, on how you see it, and on what becomes visible through and in art.
curators: Sebastian Cichocki, Lukasz Ronduda
2013
——————
LEARNING FROM WARSAW
8. November – 15. Dezember 2013
Museum Bärengasse Bärengasse 20 – 22 8001 Zürich
curators: Nele Dechmann, Nicola Ruffo and Agnieszka Sosnowska
Tools for Catching One's Balance
cooperation with Janek Simon
Arsenal Muticipal Gallery, Poznan, Poland
curated by Anna Czaban
photos by Sylwia Czubała
—— —— ——
 Ask for something that doesn't exist
cooperation with Ana Roldan
Labirynt Gallery, Lublin, Poland 2013
title from James Lee Byars
photos Wojciech Pacewicz
In their work both artists are inspired by philosophical and existential issues. They are interested in the cycle of life and death, mechanism of eternal return, a self-propelled machine, perpetuum mobile. They are also fascinated by the relation between geometrical forms subjected to the rules of maths and geometry and natural, living forms that constitute a starting point for science and technology. In her creation, Tarasewicz develops the motif of dualism – between interior and exterior, physics and organics, beginning and the end. The orders of art and science as well as physics and biology overlap in her works. Similarly, Roldan deals with facts, theoretical concepts, cultural and systemic conditioning in relation to what is learned, primal and intuitive. Exhibition in the Labirynt 2 Gallery is a first joint venture of these two artists.
curator : Magdalena Linkiewicz
2012
——————
All works were presented during group exhibitions:
As You Can See: Polish Art Today, Museum of Modern Art in Warsaw, Poland 2014
CLINAMEN, Krolikarnia X. Dunikowski Museum of Sculpture,National Museum, Warsaw, Poland 2013
MIR, Arsenal Gallery, Bialystok, Poland 2011
FRAME, Gallery Labirynt, Lublin, Poland 2011
TRANSYLVANIA 2, Arsenal Muticipal Gallery, Poznan, Poland 2011
TRANSYLVANIA 1, BWA Zielona Gora, Poland 2010
——————
EVERYTHING
Kolonie Gallery, Warsaw, POLAND
WHAT YOU SEE
steel, cardboard, wood, glass
photo: Mateusz Sadowski
RAINBOW
humen hair, animal fur, pig intestines
2010
2009
2008
2007