The Means, the Milieu—–2014
---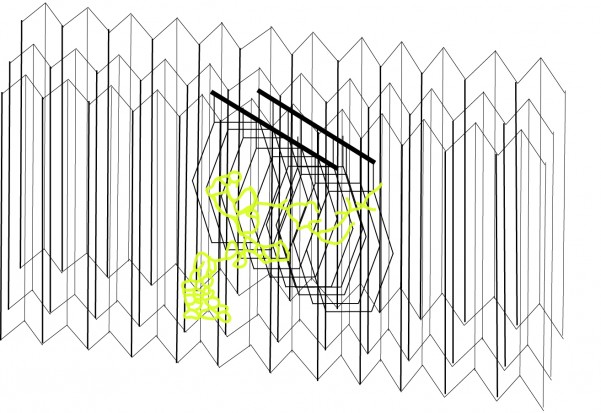 ---
The Means, the Milieu
8 November- 20 December 2014
Objectif Exhibitions
Kleine Markt 7–9/26, Antwerp, 2000, Belgium
http://www.objectif-exhibitions.org/#iza
The Means, the Milieu – FULL DOCUMENTATION
It's not a metaphor. It functions. The Means, the Milieu is a factory, a hospitable culture—a subterranean mycobiota. Iza Tarasewicz punctured the basement space at Objectif Exhibitions with thousands of metal rods. Bent and interconnected, they hang from the ceiling in a suspended modular lattice, which is again intercut by clusters of overlapping, almost cellular, hexagonal forms. A number of growing eukaryotic organisms have been enfolded into its intertwined geometric structure—encircled by base materials and stalactitic receptacles, a half-kilometre of caotchouc-infused hemp rope and fibre plates of ash-infused caotchouc.
Rust, rubber, yellow ochre, char, and the luminous qualities of medical mushrooms pervade, and an unconfirmed past hovering in the basement is reanimated. It's the perfect climate. The pipes lining the ceiling, which extend upwards to the many residential apartments above, regulate the temperature of what is already a humid basement. In that way, the neighbours transfer significant energy—doing the dishes, taking a hot bath, unawarely stimulating a mushroom, remotely. Yet Tarasewicz's biological forms are influenced by other, more far-flung people too. She brought alien forms into being and view through conversations with an underground diamond trader, an amateur mycologist, a puppeteer, and through the collective skill sets of acquaintances, family members, and a driver specialising in trafficking construction materials (and now art).
Everything is hand made. Every production decision extends from a flexible practice. It's a conversation we can't hear—microbes conversing with microbes, fungi developing their cryptic lifestyles.
Chris Fitzpatrick
——-
Objectif Exhibitions and i would like to thank the Polish Institute, Brussels, for supporting this exhibition.
——-
SCI FI collection of Post Brothers
Ongoing publication project with designers Julie Peeters, Ine Meganck and Valentijn Goethals featuring re-printed covers, excerpts, and essays drawn from a science fiction paperback archive 
---